Current Angus sires
Fordel Ben Maree R219
Ex Fordel Loch Torridon, a Sitz Upward and Champion Hill Lucy son. I've been looking for two years for a stock bull such as this. Ben Maree has a brilliant phenotype – head, loin and back end. His feet are like soup plates and as hard as nails. His terminal index is 46 (top 3%) and his self replacing index is 64 (top 1%). He's the perfect bull to move the Gear herd even further up the ladder, with quality genes and a great temperament.
Gear Firecracka R351
This Nozeka son out of the Fly family has exceeded his potential. With a terminal index of 51 and self replacing index of 59, his gestation length figure of -2.3 is within the top 1% of the breed. He covered the first 11 cows before being sold to the Tree Bridge herd for an undisclosed amount. Calves are now on the ground and are typically being born 3-9 days early, so it's been easy calving.
Netherton Archie J501
Archie's statistics really speak for themselves. He ranks highly in the top 1%, with a self-replacing index value of 76. We think of him as 'The Improver' because whatever needs addressing in a herd – whether it's phenotype, feet, calving ease, milk, or carcass traits – he's the solution.
Two of Archie's sons have been sold to Genus, with other sons, daughters and grandsons sold into France. His semen has ben sent to Scandinavia, Germany, Austria, Switzerland and Portugal, and his grandson is now at UK Sires Services, a semen collection and export company. He's currently breeding successfully in Robin Lamb's Richhill herd.
Kincarie Grant M076
Grant is a pedigree Aberdeen Angus bull with desired bloodlines such as Ankonian Elixir, Young Dale Hogan, Rockn D Ambush and Young Dale Real Deal. He has impressive feet, a good gait, and great structure and carcass traits. His self-replacing index is in the top 10% for his breed.
Young Dale Nozeka 2Z
Born to Young Dale Xcaliber 32X and Young Dale Elba 60W, Nozeka comes from an impressive pedigree. His lineage features names such as Lagrand MAF Antidote 5775, Young Dale Touch Down and Young Dale Knockout. His son, Gear Firecracka R351, is a potential stock sire with fantastic gestation length and weight figures.
Gear Fleet P312
Fleet is one of the best S A V Brave sons in breeding, born to the Archie daughter Gear Floss M272. With a terminal index of 49, and a self-replacing index of 65, he's in the top 1% of his breed and has enormous potential. He also scores particularly highly for gestation length, with an EBV of -1.3 days.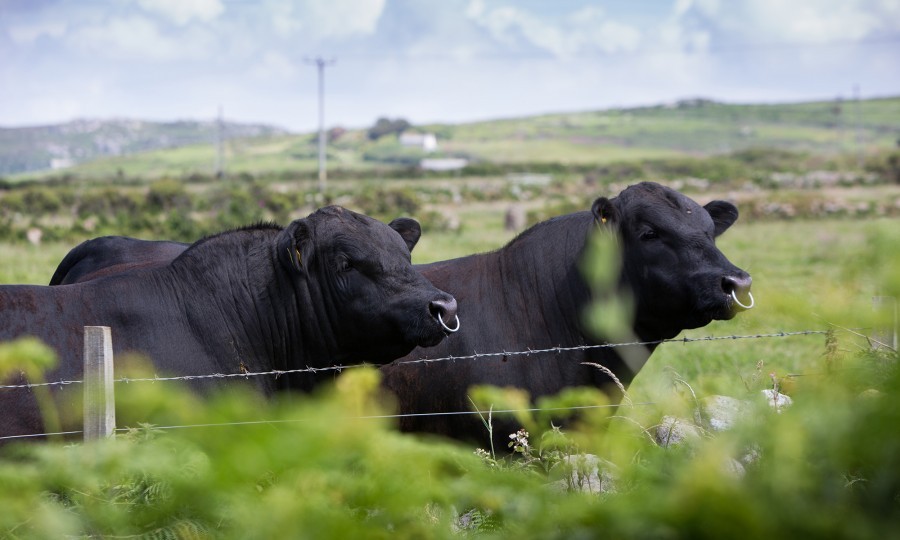 Previous Angus sires
Nightingale Pretender X35
Pretender was our first bull, purchased from Irwin Rowe. We still have one of his daughters in the herd: Gear Kind Princess E129, the matriarch of our well-established Kloud family. This BCC Eileenmere son left excellent udder placement in our cattle.
Lockerley Arnie C296
This impressive Nightingale Papa son sired the first six bulls we sold at the Carlisle May sales. Arnie was the sire of Gear Bridesmaid G170, the matriarch of the Miss Bridesmaid family. His genes pushed the herd up another rung of the ladder.
Netherton Frenchman F399
This Samurai son put style and type into the females; offspring typically being lean with a high retail yield. His dam was Netherton Frances A103, who sold for 9000gns at the 2007 Matron sale.
Netherton Big Ben M656
Bought in to do a job, this El Tigre son, born out of the G13 Steel daughter Netherton Beauty J533, has done just that. He has put length into his progeny and is now performing well within the Moss herd in Liverpool.